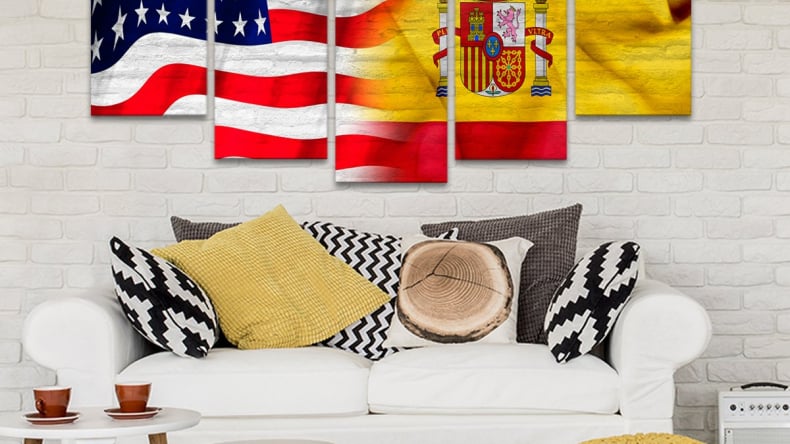 Spain attracts more than five and a half million foreign nationals who have made Spain their permanent home. Spain's growing expatriate population account for more than twelve percent of the population. While dominated by British citizens, increasing numbers of Americans are relocating to Spain.
The majority of American expatriates who relocate to Spain are retirees, mostly sun-seekers who gravitate towards the sunniest part of Spain on the Mediterranean coast in the Costa del Sol. Located in southern Spain in the province of Málaga in Andalucía; the Costa del Sol is famous for its desirable Mediterranean weather, low costs of living and stress-free, laid-back lifestyle.
Can a US citizen buy property in Spain?
Absolutely yes! There are no restrictions on any nationality from any country to purchase real estate in Spain. Residents and non-residents alike can purchase property in Spain: residential and commercial properties, or plots of land in Spain.
How long can US citizen stay in Spain?
US citizens may visit Spain for up to 90 days (over a period of 180 days) without the requirement of applying for a visa. However, after 180 days, US citizens may return to Spain and stay for 90 days. This rule also applies to the rest of the European Union where Americans can visit any country within the EU for up to 90 days within 180 days.
Can US citizens live in Spain?
Yes, definitely so. A visa is not required for visits up to 90 days. However, a visa is required if you wish to live, study or work in Spain for longer than 90 days. You will need to apply for a visa from the Spanish Embassy in the state of your home country BEFORE your arrival in Spain. Once in Spain, you have three months to apply for your corresponding permit from the Spanish Ministry of Interior.
After a period of five years residence in Spain you are entitled to apply for the right to permanent EC residence. EC residence allows you to live and work in Spain (and the rest of the EU) for any time period.
After ten years in Spain you are entitled to apply for citizenship, which bestows upon you the same rights as Spanish citizens. A shortcut to the ten-year waiting period is by marriage to a Spanish citizen.
NOTE ON DUAL NATIONALITY: Spain does not allow dual nationality (i.e. a holder of two passports at the same time: USA and Spain) and therefore you will have to renounce your American citizenship.
NOTE ON TAXES: there are only two countries in the world that tax their non-resident citizens (de-facto tax residents) on global income, no matter how much time away from their home country they spend: Eritrea and the United States. Spanish citizens that earn their income elsewhere are not subjected to taxes in Spain if they are no longer tax resident. Spanish citizens simply submit a 030 form ("Modelo 030") to the Spanish tax department (Agencia Estatal de Administración Tributaria, commonly known as "Agencia Tributari") to post notice of their non-tax residency status in Spain.
How much money do you need to retire in Spain?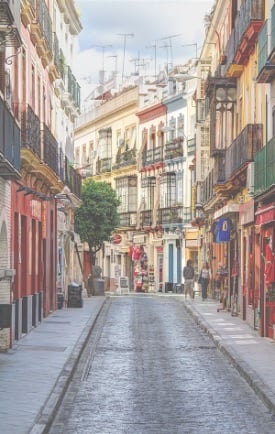 According to AARP's estimates, a modest lifestyle in Spain will cost approximately $20,000 USD per annum. For a "comfortable" retirement $25,000 per annum ($2,083 USD per month) would be required. Spain's greatest value area lies within the sun-soaked south of Costa del Sol in the Málaga province of Andalucía. Costa del Sol is an expatriate hotspot due to costs of living, the 300 days of annual average sunshine, a comfortable Mediterranean climate, and the highest number of blue flag beaches in the world.
Spain's Macroeconomics Present Value for US Citizens
Spain's recent macroeconomic factors afford US citizens more value for their US dollars. The US Dollar has remained strong against the Euro, and coupled with Spain's lowest real estate prices in recent times – a forty-percent decline from their peak in 2007 – affords US citizen's more value and purchasing power than what their US dollars buy back home in most areas of the United States.
Is it cheaper to live in Spain than the US?
House prices in Spain are significantly cheaper than the same properties in the United States. According to Numbeo, when comparing the average cost of a three-bedroom apartment in the city centre of Barcelona to New York, you'll save a massive eighty-one percent in Spain. Even Spain's most expensive city, Madrid, you'll still save up to seventy-one percent compared to the same three-bedroom apartment in New York City.
Now when comparing Spain's most loved region by the expatriate community - the popular Costa del Sol - the savings are even greater!
Comparing apples-to-apples for the quality of life enjoyed in a Mediterranean climate, the US city of Sacramento in California lies within the Köppen climate classification for "warm Mediterranean climate (Csa)" – the same climatic classification as Málaga, Spain.
According to Numbeo, when comparing costs of living between Sacramento and Málaga:
"You would need around $4,955 USD (€4,400 Euro) in Sacramento, CA to maintain the same standard of life that you can have with $2,930 USD (€2,600 Euro) in Málaga (assuming you rent in both cities)."
The cost of living in Málaga offers a massive 70% purchasing power advantage.