How Much Does a House Cost in Europe?
The below table illustrates the average price in Euros per square meter of 120 square meter apartments located in the most important cities of countries throughout the 28 member states of the European Union.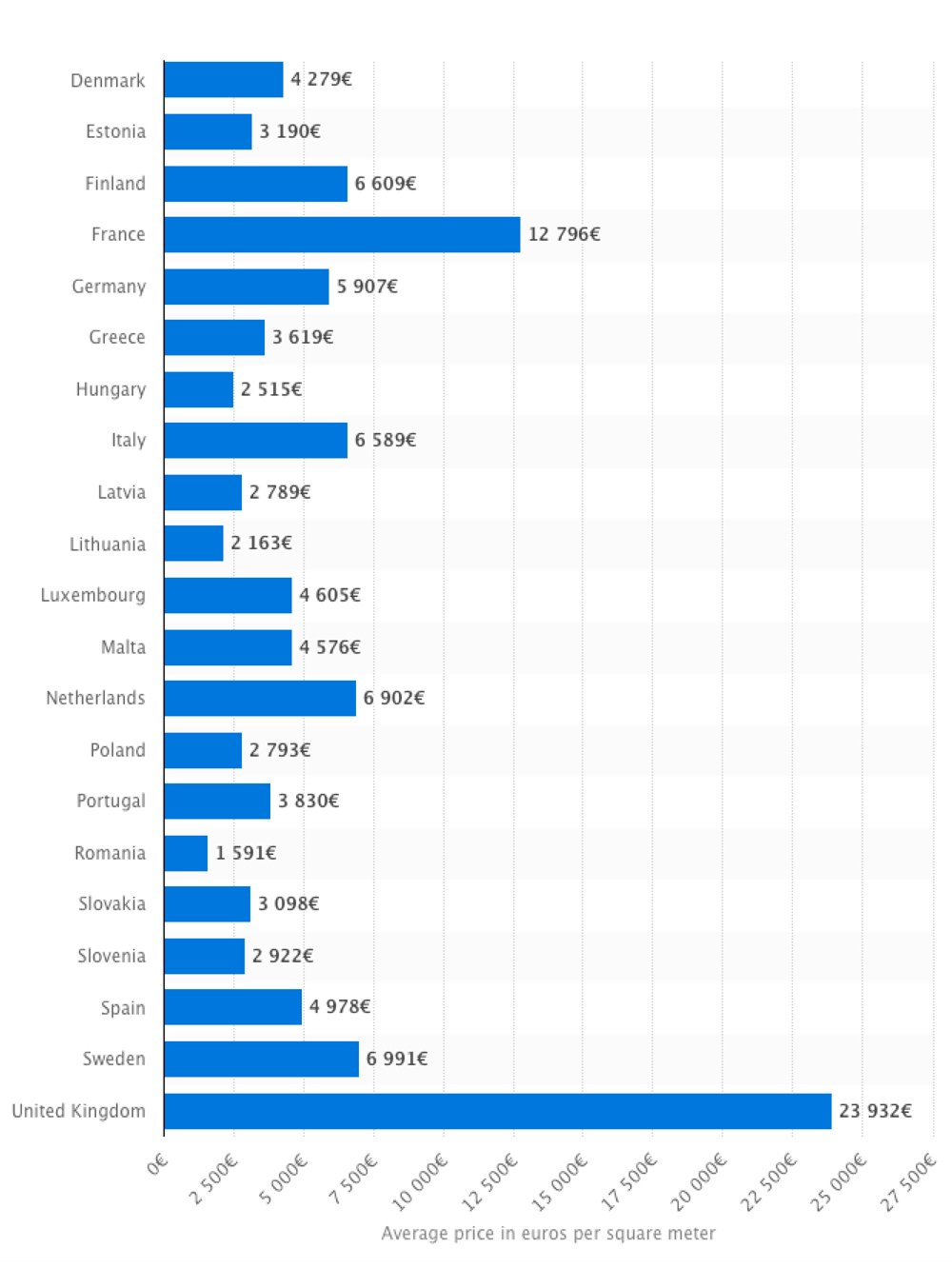 The numbers provided have been taken from several national publications such as national statistical bureaus. Therefore, no set date for data collection can be provided. The numbers provided cover 120 square meters of apartments located in the center of the most important city of each EU country. City selection is based upon the administrative capital, the financial capital, and/or the center of the rental market. Newly built and pre-sale property prices are not included. An apartment located in the United Kingdom would cost approximately 23,932 Euros per square meter, making it one of the most expensive places in Europe for residential property.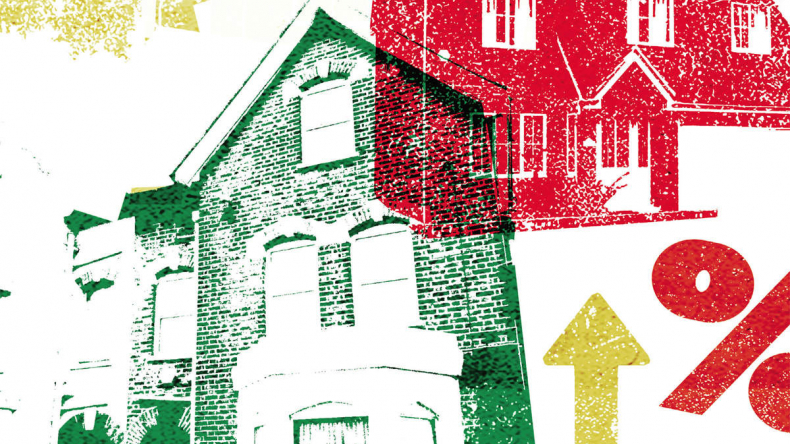 The European housing market, or residential real estate, has recently shown clear signs of recovery, with an increasing house price being the main trend. Eight years after the financial crisis, the majority of property markets in Europe have gained momentum with only a few in slow recovery or lagging behind. For example, between the start of 2014 and the end of 2015, Romania and Portugal were among the countries that experienced an increase in housing prices, whilst the prices in Slovenia and Italy decreased.
The average property price per square meter across all existing EU member states is £1,967.
Although London is the engine at the heart of the UK's property market and the most expensive city in the EU for property prices, the same can't be said for the United Kingdom as a whole.
Although there seems to be no strong correlation between the time a country has spent as an EU member state and the price of the property, there are 15 member states that joined prior to the year 2000. Of these, 13 account for the highest property prices across the EU, with just Portugal and Greece along with those that joined post-millennium, home to a property price below £1,600 a square meter.
What is the average price of a house in Spain?
According to TINSA, one of Spain's leading Independent valuation companies, property valuations reveal an overall average house price of €1,470 per square meter.
The regional breakdown of the average price of a house in Spain per square meter:
• Spain's Big Cities and Capitals: €1,591
• The Balearic and Canary Islands: €1,511
• Mediterranean Coast: €1,497
• Metropolitan Areas: €1,349
• All other Municipalities: €1,401

Where is Spain's most expensive average house price?
The most expensive housing in Spain is found in San Sebastian, a resort town on the Bay of Biscay in the mountainous Basque community at €3,383 per square meter. A close second is Barcelona with an average price of €3,380. Madrid is €2,965 per square meter, followed by Bilbao €2,219 and Cadiz €2,014.
Value to be found in Costa del Sol
Compare Spain's most expensive average house prices with the value offered in the sun-kissed Mediterranean south of Spain. In the Málaga province of Andalucía, Costa del Sol's average property price is €2,240 per square metre.
Across the rest of the Costa del Sol average house prices per square metre:
• Marbella: €3,070
• Malaga €2,120
• Mijas and Fuengirola: €2,110
• San Pedro and Cancelada: €2,550
• Torremolinos and Benalmadena: €2,050
• Estepona and Bahia Dorada: €2,050
The below table illustrates how much of a property size (in square meters) a million Euros will buy in the coveted Golden Triangle area (Marbella, Estepona, Benahavís) of Costa del Sol: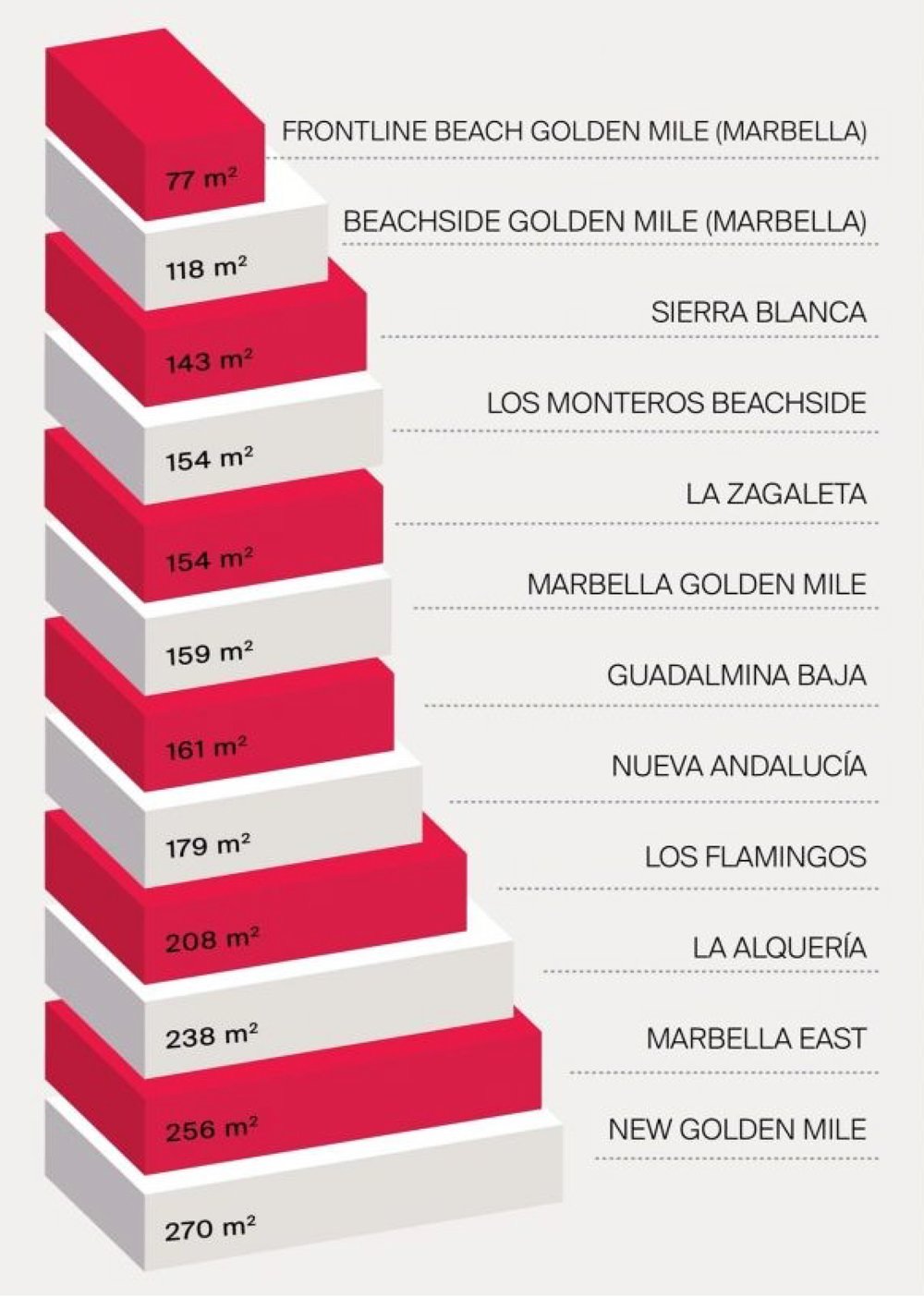 How much does it cost to buy a house in Spain?
Spanish real estate transaction costs vary depending on a number of factors:

•Is it a new build or resale property?
• What's the purchase price paid for the property?
• Will you be buying in cash or through your bank with a mortgage?
As a general rule, budget 10-15% of the purchase price to cover taxes and fees, which include:
• Transfer taxes (called "ITP") are levied at 8% for a resale property across Spain, but in Costa Blanca (except Murcia), the transfer tax is levied at 10%.
• Notary fees typically range from €400-€900.
• Land registry fees are usually half the cost of your notary fees.
• Independent lawyer fees range from €1,000-€2,000.
• Valuation fees start at €350.
• Stamp duty is 1.5% of the mortgage deeds.
• Lender's commission is typically 1% of the capital loans (if you are buying with a mortgage).
• In the case of a new-build property, 10% VAT (vs. 8% ITP for the resale property). VAT is levied at only 4.5% for new-build properties in the Canary Islands.
• Stamp duty for newly build property is 1.5% of the purchase price paid.

What are the ongoing costs for a property in Spain?
In Spain, the community charge is called "IBI". You also have home insurance, maintenance, and utility costs. If you purchase a property tourism rental, local Spanish authorities will require you to apply for a license to let property to tourists. At Spain Homes, we can advise you on the suitability of the home for such a purpose before you consider purchasing.