How Much Does a House Cost in Europe?
The below table illustrates the average price in Euros per square meter of 120 square meter apartments located in the most important cities of countries throughout the 28 member states of the European Union.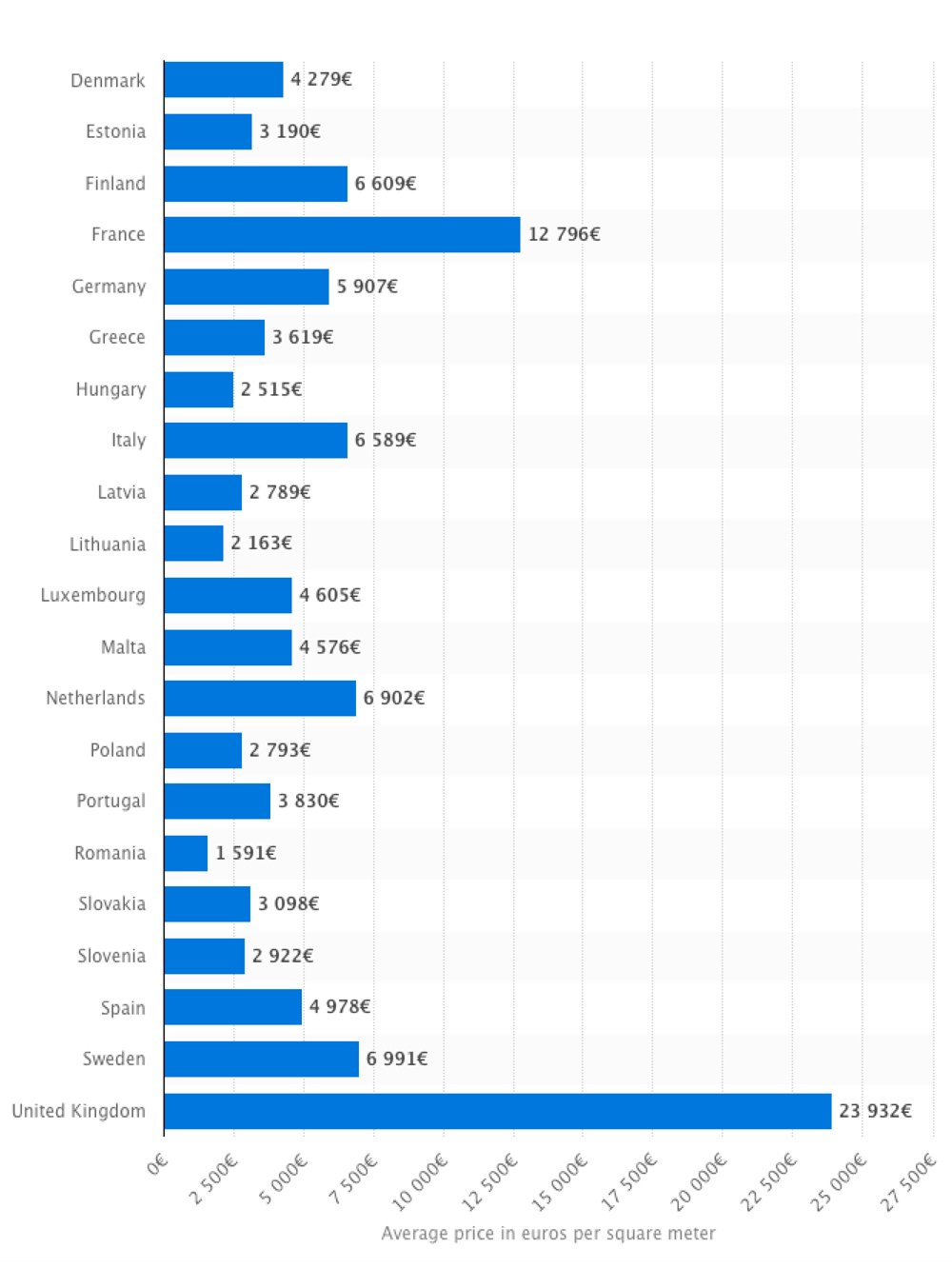 How Much Does it Cost to Buy a House in Spain?
Spanish real estate transaction costs vary depending on a number of factors:
- Is it a new build or resale property?
- What's the purchase price paid for the property?
- Will you be buying in cash or through your bank with a mortgage?
As a general rule, budget 10-15% of the purchase price to cover taxes and fees, which include:
- Transfer taxes (called "ITP") are levied at 8% for a resale property across Spain, but in Costa Blanca (except Murcia), the transfer tax is levied at 10%.
- Notary fees typically range from €400-€900.
- Land registry fees are usually half the cost of your notary fees.
- The independent lawyer fee is mostly 1%.
- Valuation fees start at €350.
- Stamp duty is 1.5%.
- Lender's commission is typically 1% of the capital loans (if you are buying with a mortgage).
- In the case of a new-build property, 10% VAT (vs. 8% ITP for a resale property). The VAT is levied at only 4.5% for new-build properties in the Canary Islands.
- Stamp duty for new build property is 1.5% of the purchase price paid.
What are the Ongoing Costs for a Property in Spain?
In Spain, the community charge is called "IBI". You also have home insurance, maintenance, and utility costs. If you purchase a property tourism rental, local Spanish authorities will require you to apply for a license to let property to tourists. At Spain Homes, we can advise you on the suitability of the home for such purpose before you consider purchasing.