Visa Types, Requirements, Application and Guidelines in Spain
Ah Spain… the constant sunshine, warm seas, soft sands and magical sunsets.
So, you've decided a new life in the sun might be for you, but what visa options are available to make the Spanish dream a reality?
You've come to the right place. Here you will find brief information about visa options.
Do I need a visa to enter Spain?
Yes and no - depending on your nationality, purpose and duration of stay.
Visiting – 90 Days Maximum Stay
For visits less than 90 days per 180-day period, visas are not required for EU or EEA Citizens and for holders of valid passports issued by the following countries or dependencies.
This information applies only to ordinary passports. All other nationalities not listed above require a visa to enter Spain.
| | | | | |
| --- | --- | --- | --- | --- |
| Albania* | Canada | Kiribati | Palau | Trinidad and Tobago |
| Andorra | Chile | Korean Republic | Panama | Tuvalu |
| Antigua and Barbuda | Colombia | Liechtenstein | Paraguay | Ukraine* |
| Argentina | Costa Rica | Vanuatu | Peru | United Arab Emirates |
| Australia | Croatia | Malaysia | St. Kitts and Nevis | Uruguay |
| Bahamas | Dominica | Marshall Islands | St. Lucia | USA |
| Barbados | El Salvador | Mauritius | St. Vincent and Grenadines | Vatican City |
| Bosnia Herzegovina* | Georgia* | Mexico | Samoa | Venezuela |
| Brazil | Grenada | Micronesia | San Marino | Vanuatu |
| British nationals (Overseas) | Guatemala | Moldova* | Serbia** | |
| British overseas territories citizens (BOTC) | Honduras | Monaco | Seychelles | |
| British overseas citizens (BOC) | Hong Kong Special Administrative Region | Montenegro* | Singapore | |
| British protected persons (BPP) | Israel | New Zealand | Solomon Islands | |
| British subjects (BS) | Former Yugoslav Republic of Macedonia (FYROM)* | Nicaragua | Taiwan (only holder of passports which contain identity card number) | |
| Brunei Darussalam | Japan | Northern Mariana Islands (passports from the US) | Tonga | |
* Only when holding a biometric passport. If not, a visa is required.
** Only when holding a biometric passport. If not, a visa is required, excluding holders of passports delivered by KOORDINACIONA UPRAVA.
What Happens If I Have a Schengen Residence Permit?
Regardless of your nationality and passport, if you hold a valid residence permit in any of the Schengen member states, you are entitled to re-enter the Schengen area without a visa on production of your proof of residence and your passport. Note that you cannot exceed 90 days stay per 180-day period in any Schengen member state (excluding the member state of residence permit issue).
Stays in Spain Exceeding 90 Days
You require a long-term visa to stay in Spain if you are not a national from the EU/EEA or Switzerland and your intention to remain is more than 90 days per 180-day period.
EU Nationals Who Stay in Spain Longer than 90 Days
For nationals from EU/EEA and Switzerland, no visa is required, but you will need to register with the authorities (el padron) and apply for a national identity number (NIE - Número de Identificación de Extranjero). Additionally, you must present health insurance and evidence of financial means to support yourself. The definition of "financial means" varies from area to area with Madrid being a higher value (due to costs of living) than Murcia.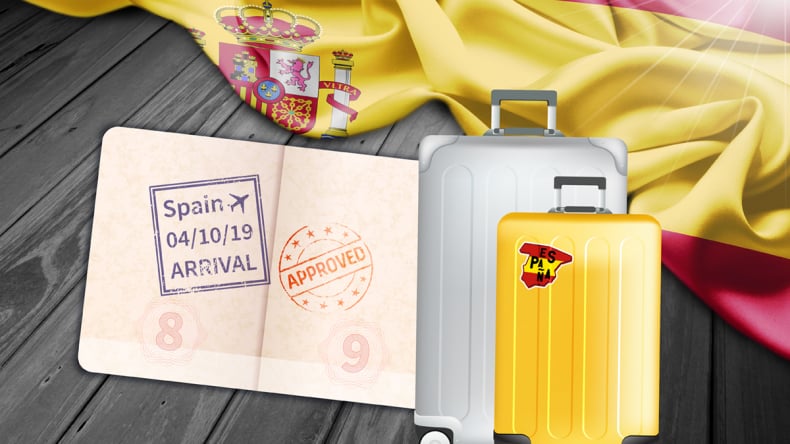 Spain's Visa Categories
1. Non-Lucrative Residence Permit: This category of residence permit is one of the most popular paths to residency in Spain by non-EU/EEA/Swiss nationals. The non-lucrative residence permit is typically reserved for self-sufficient applicants who have no plans to work in Spain and are financially self-sufficient (bank statements or accountant declarations). The non-lucrative residence permit is valid for 1 year and renewable for an additional 2 years, renewable twice. That is, this category of visa will allow you up to 5 years of residence in Spain (year 1 + 2 years + 2 years). However, at the end of your first year you can apply for a work permit (self-employed or employed).
2. Work Employment Visa: This temporary 2-year (renewable) visa allows you to live and work in Spain. It's not a requirement, but an annual salary greater than 25,000 Euros will help strengthen the success of your application. You can apply in Spain (on a tourist visa) or apply from outside of Spain. As this visa category is for employees, your employer will apply on your behalf.
3. Entrepreneur Visa: Start a business in Spain to qualify for this one-year visa. Conditions require that the business project be of "public interest" which is defined as:
- Creates new jobs
- Has a positive economic impact on the community
- Contributes towards scientific or technological innovation
4. Investor Visa: One-year visa validity is available when investing 2 million Euros in Spanish sovereign debt or 1 million Euros in Spanish company stock or Spanish bank deposits.
5. Golden Visa Program: This program allows you to legally work and live in Spain when purchasing Spanish real estate valued at a minimum of €500,000 (self-funded and paid in full - no debt financing allowed under €500,000). Read more about the Golden Visa Program in Spain.
6. Spouse and Family Reunification: Under The Citizens' Rights (Directive 2004/38/EC) a non-EU/EEA/Swiss national can live permanently in Spain with their EU/EEA/Swiss national spouse.
7. Student Visa: To study in Spain for more than six months you can apply for a type D student visa and a student residence permit/card or Foreigner Identity Card (within 30 days from your arrival in Spain) from your local Foreigner Office or police station. You'll need an acceptance letter from the educational institute you plan to undertake your studies, medical insurance, a medical certificate, proof of funds, Spanish residential address and a recently dated police clearance certificate from your home country.
Disclaimer - The Essential Spanish Visa Guide
It's important to note that while The Essential Spanish Visa Guide is up to date and accurate at the time of publication, it is provided for informational purposes only. The authors of this guide have not taken into consideration your personal circumstances, country or nationality. As with any visa application, it's strongly recommended to seek personalized advice that caters to your individual circumstances. The Spanish Embassy or Consulate in your home country is always a great place to start. Additionally, there are also specialized Spanish immigration lawyers who provide bespoke individual advice and manage all the paperwork and formalities of your Spanish visa application.