Costa del Sol is home to numerous prestigious schools from primary schools to universities, private educational institutions to public schools.
One of the most important things while moving abroad is to find a good school for your children. Being near an appropriate school would be one of the significant things to consider when buying a house.
We have written this article to give you an idea about the school system in Spain and the best schools in Costa del Sol.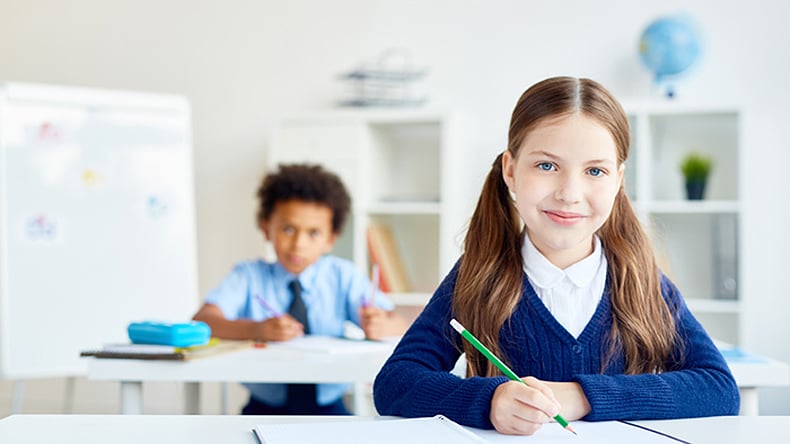 Is Education Compulsory and Free in Spain?
In Spain, for all children aged between 6-16 years old education is compulsory and free in public schools. Education is not compulsory from the age of 16-18 which is either upper secondary education (Bachillerato) or vocational training.
It is also possible to find the best high schools in Spain for ex-pats. Here you will find a brief guide to where to start in finding the best school for your child.
Some hints before start finding the best school for your kid:
• The first application period in Costa del Sol is generally in March. If you have a school in mind, March would be the right time to apply for Spain's high schools.
• Be prepared to face a waiting list for the most well-known schools, whether private or public. The most important factor for public schools is the score you get from your residence address.
• You can check the listings on the official webpage of the Department of Educational Development and Professional Training in Andalusia. You can list all the relevant education centers by the name of the location and search. Here, you can find details about the levels, extra activities, languages ​​of instruction, and so on.
• You can check the websites of the best international schools in Spain's Andalusia for more details on enrollment procedures and fees.
• If a student cannot pass the end-of-year exams, they must repeat the same academic year regardless of their level. This may be the case for foreign children as they may need an adjustment period in the first year.
Are Public Schools Good in Spain?
If you are planning to stay in Spain permanently, public schools will be one of the best options. Spain's education system is good for international students in the context of opportunities and the environment. The district administrations also support the adaptation of new students, as many foreigners are on the Costa del Sol.
Enrollment in Spanish public schools is free for all residents and EU citizens. It is based on the address of the residence. So, it would be a good idea to check the effective area of possible schools.
Generally, schools offer an education from the age of 3 (Infantil) to the end of Secondary School (ESO). For some, the Primary School (C.E.I.P or Primaria) and Secondary School (I.E.S or ESO) may be separated.
Spain is a good country to study as an international student. The good quality of education is worth mentioning. You can also find public schools that have a bilingual curriculum indicated on the school name normally.
As said before, March is the correct time to apply if you have a chosen school in mind. Lists are published at the end of April, with quotas and student scores. So, there may be a second chance in May. For enrollment, you must first register your residential address (Padrón) at the town hall (Ayuntamiento).
What Languages ​​are Taught in Spanish Schools?
Spanish (Castellano) is the official language of instruction in public schools in Spain. However, in some regions, it will also be compulsory to learn the common official language of the respective region.
Spanish is the only official language here in the Costa del Sol region of Andalusia.
However, in private schools or international schools, the teaching language may differ. For example, Arabic schools in Spain can offer courses in Arabic. Or German schools in Spain would mostly follow the German curriculum and teach the main lectures in the German language.
Where are the Best of Spain's International Schools in Costa del Sol?
Since it is a highly preferred residential area for expats, most of the international schools and best global universities in Spain are centered around Costa del Sol.
In Costa del Sol, you will find a wide choice of good international schools, from nursery to high school. Education in these institutions is mostly conducted in a foreign language. These can be English in British American schools in Spain or German, Swedish, Norwegian, and so on.
French schools in Spain mostly give lectures in french, or sometimes they might provide bilingual education. However, the most common international schools are the British schools in Spain. They are among the English language schools in Spain since the number of UK citizens living here is quite higher than the other nationalities.
International schools can be a good option for the smooth transition of children. Information about international schools is available on the home page of Embassies in Spain.
How Much are International School Fees in Costa del Sol?
Regarding fees, they can range from €2,000 to €15,000 per year. It generally does not include materials, lunch, transportation, and extra activities. The additional cost will be around €800 to €2,000 per year.

List of the Schools in Costa del Sol
Here you may find a list of some best private schools in Spain and well-reputed international schools in Costa del Sol:
The school is located western part of Costa del Sol, between the Estepona and Marbella. It provides education for children aged 3 to 18 years. It offers an international curriculum that follows the Cambridge program. Children will have a language-immersion environment.
The school is located in Estepona, in the heart of The New Golden Mile in the Costa del Sol. It was founded in 2004. They follow the British National Curriculum. Education is from kindergarten (2-3 years) to the end of primary school at age 12.
This is a private school in Málaga with a British International Curriculum for students aged 3 to 18 years old. The language of instruction is English but Spanish is also taught to all ages, according to the regulations of the Ministry of Education.
The campus is located in a unique natural area in the center of the Guadalhorce Valley. It is only 15 minutes from the city of Málaga. It is very well connected with the main roads to the rest of the region.
It was founded in 2009. It offers education from nursery to the end of primary school. This is a bilingual Spanish-English school located in the center of Málaga.
The college is located in San Pedro de Alcantara, Marbella. It offers the British Curriculum (the International Primary Curriculum, GCSEs, and A-Levels) and Spanish equivalent (ESO and Sixth Form). Laude San Pedro International College is chosen as the second-best school in Spain by Forbes' Best 100 Schools list.
Founded in 1971, the school is now a modern education facility in Marbella with students of more than thirty nationalities. Children take English and Spanish lessons throughout their school years.
They follow the English curriculum, meaning in Years 10 and 11 students take GCSE or IGCSE courses. The three examination boards used are Cambridge (CIE), AQA, and Edexcel.
Alma Forest School is situated just outside of Sotogrande in Andalusia. This international school follows an international curriculum and accepts students from 3 to 14 years old. Escuela Bosque stage accepts admissions of pupils between 3-6 years old and children between 6-11 years can attend Primary School.
Alma Forest School encourages children to understand the world that we live in from early age with innovative practices and provide a healthy and natural learning environment.
Torrequebrada International College is a bilingual private school (Spanish and English) in Benalmádena. It offers education to Infants, Primary, Secondary, and Sixth Form Education.
In Infants and Primary, the school is authorized as a British School by the British Council. In Secondary and Sixth Form, authorized by the Spanish Ministry of Education and by the International Baccalaureate Organisation (IBO) for the International Baccalaureate Diploma Program.
It offers a British education that is complemented by Spanish studies and is located in Málaga. British School of Málaga is also part of the International Schools Partnership (ISP). The school is for pupils aged 3 to 18 and is among the best high schools in Spain.
The British College of Benalmádena is in the peaceful urbanization of Torremuelle. The prestigious school offers education from the pre-nursery level to the university entry level.
The college is fully recognized by both the Spanish and British Ministries of Education. It is a member of NABSS, the National Association of British Schools in Spain. The school follows both the British Curriculum and the main areas of the Spanish Curriculum. In this way, it gives qualifications from both the British and Spanish examination systems.
The school was founded in 1997. It has students from over 25 different nationalities and follows the British Curriculum. Education is from pre-nursery to the Sixth Form.
Founded over 50 years ago, the school is located in Torremolinos for pupils of ages 1-18. It consists of Pre-School, Primary and Secondary Schools. It follows a complete English National Curriculum, including GCSE from ages 14 to 16, and A-Levels from 16-18.
Located in Nueva Andalucia, Marbella, the school was founded in 1982 and has pupils from 3 to 18 years. It now offers an English-style education combined with Spanish language and culture education. In this way, they aim to enable students to gain proficiency from both the English and Spanish examination systems. Forbes has chosen Aloha College as the 5th best school among 100 others in Spain.
This private school is located in Mijas Costa, Málaga, and offers education to children from pre-school to high school. This is the oldest British School of the Costa del Sol, founded in 1968. The school offers the English National Curriculum as well as the Spanish ESO and Sixth Form.
Located in Marbella, The German School of Málaga was founded in 1898. It is one of the best german schools in Spain and is approved by the Spanish education authorities.
The school is officially recognized by the Conference of Ministers of Culture and Education (KMK). It is subject to the Federal Republic of Germany's supervision. The school offers bilingual education from nursery to the end of Secondary School.
The private Norwegian primary school is located in the beautiful town of Benalmádena. It is 15 minutes from Málaga and 40 minutes from Marbella. The school follows the Norwegian curriculum and provides education for children between the ages of 1 to 10.
The Swedish School Marbella is a small school for Swedish-speaking kids. The school follows the Swedish curriculum and the directives of the Swedish National Agency for Education.
The school was founded in 2003. The capacity is 200 students. The school is from preschool at 3 years of age to the elementary school F-9.
This is a private Finnish school located in Fuengirola, since 1991. The school consists of Pre-School, Primary School, and Upper Secondary School. It follows the national Finnish curriculum with compulsory Spanish offered in all grades.
Founded in 1968, the Liceo Francés de Málaga offers education from Pre-school to the Sixth Form. It is a member of the worldwide network of the Agency for French Education Abroad (AEFE). It offers to teach in accordance with the Spanish culture and the French National Education program with English as a third language.
EFIM is a primary school including the stages of nursery and elementary. It offers an innovative trilingual French-English-Spanish education. Their system is built on the hybridization of active pedagogies and is aligned with the French National Education program. EFIM will welcome French and non-French children aged 3 to 11 from September 2021.
Are There Good Private Spanish Schools in Costa del Sol?
There are a great number of private Spanish schools on the Costa del Sol. These schools offer a high-quality education just like international schools, following the Spanish curriculum in a bilingual environment.
Founded in 1971 and located in Fuengirola, the college is ranked among the best 50 schools in Spain in 2022. Being one of the best private schools in the Costa del Sol, it imparts the stages of Pre-school 0-2 years, Infant Education, Primary, Secondary, and Sixth Form.
The official language of the school is Spanish. But also in Infantil and Primary education, students have 50% of the day in Spanish and the other 50% in English.
Founded in 1985, this is a Spanish/English bilingual private school in Costa del Sol. It covers all stages of the current Spanish educational system: Early Childhood, Primary Education, Compulsory Secondary Education, and Sixth Form. Located in Marbella, it accepts students from Fuengirola to San Pedro de Alcantara.
Based in both Estepona and San Pedro de Alcántara (Marbella), Colegio San José is a private, secular bilingual education center. It covers all educational levels; Infant School, Primary School, Secondary School (ESO), and Sixth Form.
For more details on the Spanish school system, please read our article Education in Spain.
FAQ about Schools in Costa Del Sol
Q: What is the age for compulsory education in Spain?
A: Education is compulsory for all children aged 6 to 16 in Spain. It is free in all state schools.
Q: What are the school hours in Costa del Sol?
A: A school day in Andalusia is usually divided into two: 09:00-14:00 in the morning and 16:00-18:00 in the evening. There is usually 2 hours lunch break.
In some schools, education ends around 14:00. The rest is reserved for extracurricular activities after lunch. The hours also may differ in September and in June.
Q: Are kids wearing uniforms in schools in Spain?
A: In general, uniforms in public schools are not compulsory in Spain. Students in private schools or concertos (semi-private schools) often wear uniforms.
Q: How is transportation for schools in Spain?
A: The public school system is address-based, so children should go to the nearest school. But in most cases, there will be a school bus for transporting children.