One of the main questions in the minds of those who live abroad is what will happen if they pass away and how the people left behind will deal with this process. Speaking about death is never an easy subject, but especially if you are living overseas, it's important that you are prepared and well informed about the death process. When someone dies overseas, this painful period of losing someone could be worse by not knowing what to do or having to deal with an unfamiliar system.
What Happens When an Expat Dies in Spain?
The death procedure to be followed in Spain can be summarized as below;
You should call the local police (Policía Municipal - Tel: 092)
And contact a doctor (if the police don't) to issue a temporary certificate
Police or the doctor will contact a Local Funeral Director (Tanatorio) to sign the release form and remove the body
All deaths should be registered within 24 hours at the Civil Registry (Registro Civil) in the local Town Hall (Ayuntamiento). The registry will issue the official death certificate. You will need copies of this document, so it's advised to get as many copies as you are allowed.
It is important not to rush to sign any documents until you know what you are signing.
The most important factor that differs in Spain is the speed of the process. The body should be buried or cremated within 24 to 48 hours of death in most of the regions. This situation puts immediate time pressure on the family and relatives to very quickly deal with the arrangements for the funeral or cremation.
Being an expat in Spain makes this process even harder as all of a sudden, many relatives from another country, must fly in at short notice. That's why in Spain, general practice is to plan ahead for the one's funeral, predetermine the director and place of the funeral to make things easier for families and beloved ones. If you have taken out a funeral plan in advance, at least some of the stress and pressure of having to organize everything can be avoided. You can find several reliable partners for this process.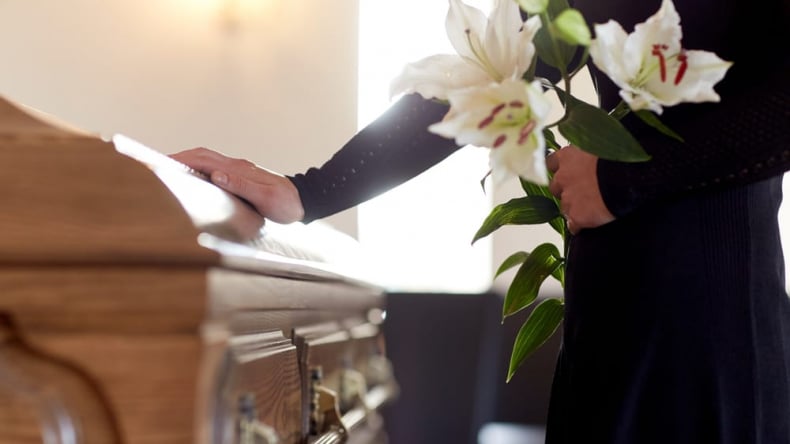 How Much is a Funeral in Spain?
Funerals are always a difficult task. You should be taking into consideration many factors such as logistics, purchase of casket, burial grounds, and even catering. Roughly we can say the cost of a funeral in Spain can be 3.500-4.000 € but you should keep in mind that this cost depends on many factors such as the location, the service required, the type of coffin, etc.
Cremation having a cost of 750 Euros on average, is a more economical option in Spain.
If the deceased has travel or another form of insurance, it is important the insurance company is contacted as quickly as possible so that the repatriation, burial or cremation costs can be met. In case if the deceased does not have insurance, the family will need to pay the costs.
Local Burial, Cremation or Repatriation
If the deceased doesn't have a funeral plan, the next-of-kin should be deciding to have a burial, cremation or repatriation which means bringing the person home. Also, the funeral director will be assisting for the options.
In Spain "burial" often means an aboveground niche. Each municipality has a cemetery where a coffin is inserted in a niche (Nicho). Normally these are held for a contracted period (normally between 1 and 50 years), once this period expires the body is moved to a common burial ground. These conditions may vary according to cemeteries.
Many people, particularly expats, prefer to be cremated. This needs to be clarified from the start with the doctor and funeral directors. Cremation is widely practiced and known in Spain, so modern and well-equipped crematoriums are to be found. This is a more economic option than a burial.
If the body is to be taken back to the country of origin and if the deceased has travel insurance, you should immediately contact the insurance company to establish if they are able to cover the repatriation expenses and make the necessary arrangements. If the insurance is not covering the repatriation, it is needed to appoint an international funeral director in the home country. The repatriation also has to be communicated with the attending doctor when the death certificate is prepared. In the case of repatriation, the passport should be kept with the body.
Organ Donation in Spain
It is also possible that the person who has died wishing to donate his/her organs. Spain is the world's leading country in organ donation, and it is not important for people to have a donor card. Spain operates an "opt-out" system in which all citizens are automatically registered for organ donation unless they state otherwise. If the death does not occur in the hospital, it should be discussed with the attending doctor and funeral director.
Last Will and Testament
Once you have an asset in Spain, it is also important to decide what to do in case of a death. These assets can be property, any assets held in bank accounts, life insurance policies, company shares, and any material goods or possessions such as a car or jewelry. So, it will be a good idea to prepare a will. A foreign will be valid if it is translated into Spanish and legalized before a Spanish consul.
Death and bereavement are always a tough subject, but it is the reality of life. Especially if you live in Spain permanently or you have a long-term residence, it is better to have a funeral plan. In any case, if you need assistance with any urgent issue you can contact us. We will support you to contact funeral services companies.